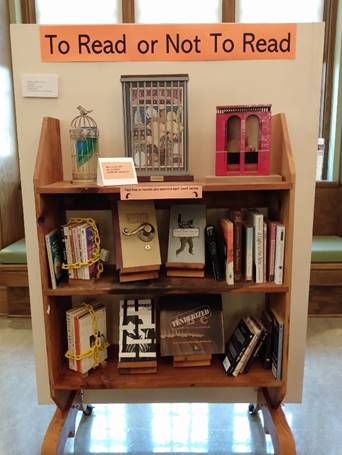 We are delighted to host the exhibit "To Read or Not To Read" during and beyond Banned Books Week (September 18-24, 2022) which celebrates the freedom to read.
Join us for the Gallery Talk on Sunday, September 18 (2:00-3:00pm). The exhibit runs through October 28, 2022. All details below.
EXHIBIT
The altered book installation, Summer Reading, by Northside artist George Roberts, is his expression of indignation over book bans and challenges. On display are 33 works of banned fiction Roberts taught in his English classes at North High, with each book altered to make it unreadable. The exhibit also documents the court challenges to each book, as well as the recognition and awards given to each title. A journal for viewers to share their own "I Read Banned Books" story is also included. The exhibit runs from September 11 – October 28, 2022 at Sumner Library. This is not a "hands off" art exhibit. You are welcome to pick up and handle the artwork. Also, a selection of banned books will be on hand for you to check out.
GALLERY TALK
Join us on Sunday, September 18 at 2:00pm for Gallery Talk. Artist George Roberts will be joined by Johannah Genett, who serves on the American Library Association's Intellectual Freedom Round Table Executive Committee and the Intellectual Freedom Council in a conversation about banned books and the exhibit. Everyone is welcome. 
Register here.
ARTIST RESIDENCY
In addition to the  Gallery Talk , artist will be on hand at the exhibit for conversation and questions Monday-Friday from 1-3 p.m. during Banned Books Week, September 19-23.