The Apprenticeship Series: Homage to Evelyn Martin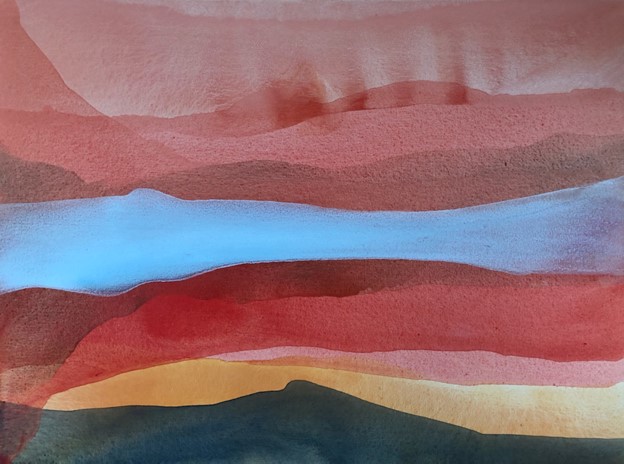 Abstract paintings by Lisa Peterson-de la Cueva
July 13-31, 2021
Opening Reception: Saturday, July 17 4-7 pm
Gallery Talk: Tuesday, July 27, 7pm
After fifteen Covid months, we are pleased to reopen our gallery with a show of new work by Lisa Peterson-de la Cueva, a community-based educator who has been a friend and supporter of Homewood Studios for many years. She is currently working on a new series of abstract paintings which will be shown for the first time at our gallery. The Apprenticeship Series is an homage to Evelyn Martin, whose paintings allowed Lisa to see the world as a joyful dance of colors, a place to play and to create.
Artist's Statement
About a decade ago I sustained multiple injuries that forever limited my mobility. Before then, kinetic movement had been one of my primary forms of creative expression and happiness. Grief shook my sense of self when my injuries failed to heal and the reality of living with altered mobility began to set in. Life still existed, but it seemed colorless.
It remained so for a time because I felt lost without the things that I had loved to do like sports, walking, hiking, gardening, and dancing. Several years into failed attempts at healing I began to accept that I would have to develop new ways of finding joy and of being in the world.

One night around that time I found myself at home looking intently at a painting that had hung for years on the walls of my various New York and Twin Cities apartments. It was an explosive abstract painting of pale yellows, light roses, and pure oranges that burst from a single point on the canvass into a deep crimson background. As I stared at this painting I had noticed so many times, but never really seen, I suddenly felt an urge to paint.

This painting was by a family friend, Evelyn Kienitz Martin (1907-2003). During my childhood, her abstract art works and her participation in Women's Art Resources of Minnesota (WARM) had been less important to me than her friendship with my family. For generations, Evelyn's family and my family have been good friends and in some ways I considered her another grandmother. I greatly admired Evelyn for being a spunky octogenarian who loved young people and jazz, abstract painters and fashion, current events and conversation. Her paintings seemed to reflect that contagious "joie de vivre."