REAL POSITIONS, self-portraits by Seitu Jones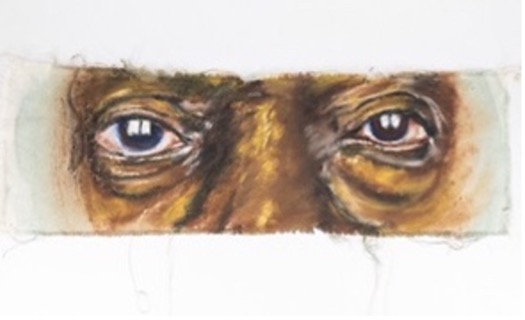 To insure everyone in our community remains safe, masks are strongly recommended when visiting Homewood Studios in person. Thank you.
January Show
REAL POSITIONS: Self-Portraits by Seitu Ken Jones
Curated by Neal Cuthbert
January 4 through January 29
Closing Celebration: Cancelled due to Covid considerations
Homewood Studios is both pleased and proud to present new work, much of it never seen outside his studio, by longtime friend Seitu Ken Jones. Originally planned for early 2020, this show was postponed by the Covid-19 pause but is well worth waiting for. Of this specific work, Seitu writes: They are actually images of me in some of the conditions and struggles African American men have been placed in America. There is an image of me as an enslaved man painted in warm colors, another is me in blue as a part of the Great Migration and the painting in red is me in the current reckoning.
And about the show in general, curator Neal Cuthbert writes: I have paired Seitu's large self-portrait paintings and drawings with what other people might consider the un-interesting detritus of an artist's life – pages reproduced from his sketchbooks, notepads, and calendars. They include drawings from his youth, sketches of people and ideas, lists for life and projects, calendars reflecting his work in communities all over with all sorts of people, and (most likely) doodles from the endless meetings he has attended to realize his work. Taken together they provide an intimate and personal glimpse into the reality of Seitu's life.
To read Neal Cuthbert's Curator's Statement, please click here.